All of us are sick of animals breaking into our houses and destroying the gardens we toiled so diligently to create. Any open space in a yard that attracts unwelcome visiting animals is shielded by this ground-breaking ultrasonic animal repellent. Ultrasonic waves produced by motion-activated technology last 2.5 seconds. which is just long enough to scare the animal away without harming it.

Only animals can hear the sound waves that the device releases at this frequency. Keep pests and deer away from your garden. Ideal for defending paths. lawns. flowerbeds. bird feeders. and ponds.
2 STEPS TO USE: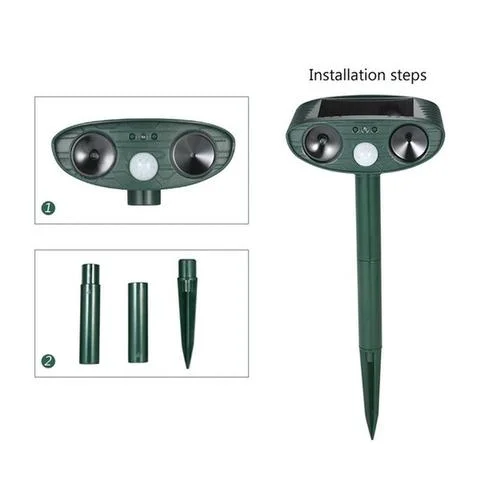 BENEFITS:
BURN OFF THE UNWANTED DEERS! Within 48 hours. deer can be eliminated with Pest Destruct - Ultrasonic Deer Pest Repeller. 30 feet to 2425 square feet of coverage area.
Solar Power Ultrasonic Cat Dog Repeller Outdoor Garden Infrared Sensor Animal Scarer will help you get rid of deers. dogs. cats. foxes. raccoons. mice. skunks. squirrels. and more!
Can Be Used Everywhere :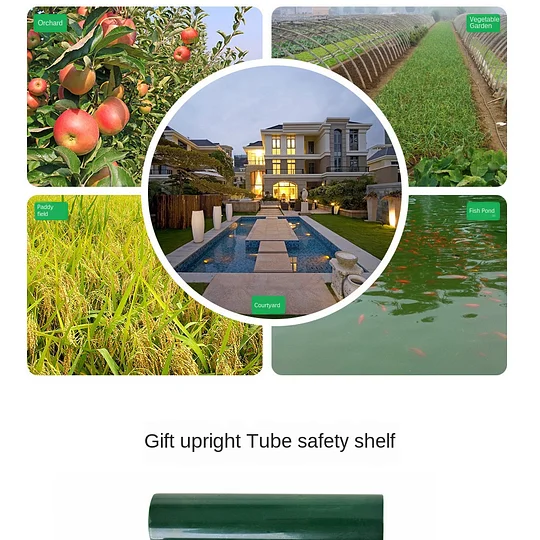 The passive infrared sensor (PIR) senses movement and activates the ultrasonic speaker. which emits a tone that is inaudible to humans and scares away unwelcome species. Up to 2425 square feet of space can be effectively blocked off by this repellent. since solar energy powers it. Electricity or batteries are not required. Don't hesitate to purchase one because it is ideal for usage in the lawn. yard. and garden.
PERFORMANCE GUARANTEE! Your complete pleasure is our aim. For this reason. we offer a quality guarantee on the Ultrasonic Deer and Pest Repeller. Pest Destruct. If you're displeased with your purchase. get in touch with us. We'll be happy to assist.
CHEMICAL FREE! Protect your home from unwanted Deers without the use of dangerous and messy chemicals. pesticides. sprays. or traps that can harm you. and your family. No Dead animals!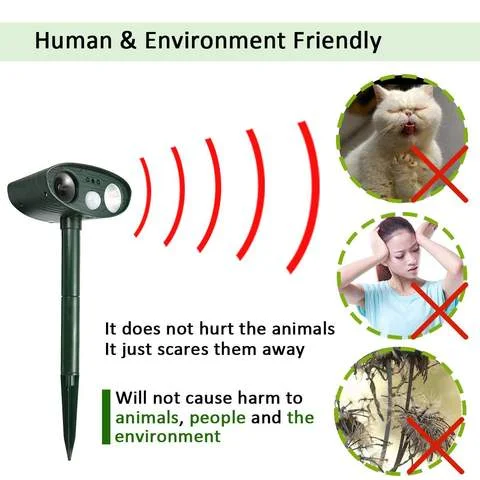 EASY TO USE AND ENVIRONMENTALLY FRIENDLY: Drives deer and other animals away naturally without harming them. For use in all weather. made of UV-resistant and waterproof material. Solar energy technology is cordless and rechargeable and charges itself in the sun. No longer stress about buying new batteries! The repeller has a FLASHING light to frighten animals.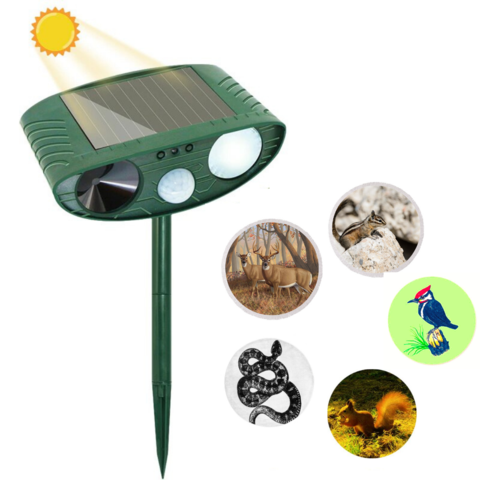 WATERPROOF & ENERGY-SAVING: Cordless. rechargeable. powered by solar energy with a solar panel on top. high efficiency and minimal power usage. Year-round and in almost all weather situations. it continues to function perfectly. For optimal coverage with a 110 degree angle of detection. it is crucial to take into account the best rotation. Therefore. you don't need to be concerned that the lack of power supply may cause it to malfunction.

Features :
PIR can detect motion within a 30ft (9.14m) radius .

Double ultrasonic speakers . each unit covers 110-degree arc and 30ft ground area .

Harmless to human . animals . and pets .

Ultrasonic Frequency 18-40KHz .
Package Content:
4 Ultrasonic Deer Repeller
4 Instruction Manual
12 Stakes